Greeting Cards
Everyday Cards
Open & Friend Greeting Cards
We stock over 400 Open & Friend titles and designs from Simon Elvin, Hambledon, Black Sheep, Regent and more.
Titles in this section include Open, Friend, Best Wishes, Belated and Thinking of You:

View All Open & Friend Cards
Female Relations
Our female relation section has all of the popular titles covered with over 700 titles and designs to choose from!
Titles in this section include Mum/Mummy, Wife, Daughter, Sister, Neice, Aunt/Auntie, Cousin, Grandaughter, Granda/Nan, God Daughter and all relevant In-Law permutations.

View All Female Relation Cards
Male Relations
Over 500 designs and titles to cover all of the male relation card recipients.
Male greeting card titles in this section include: Husband, Dad/Daddy, Son, Brother, Nephew, Uncle, Cousin, Grandson, Grandad, Godson and all relevant In-Law permutations.

View All Male Relation Cards
Age Related Greeting Cards
Over 500 popular greeting card designs to cover ages one year old to one hundred years old.
View All Age Related Cards
Birth and Christening Cards
A fine selection of appropriate greeting card titles for Birth & Christening celebrations.
Card titles in this section include Baby Girl, Baby Boy, New Grandparent and various Christening / Religious Card titles.
View All Birth and Christening Cards
Sympathy Greeting Cards
Find attractive and suitable designs for the Sympathy titles in our Sympathy & Loss of greeting card section:
View All Sympathy Cards
Wedding & Anniversary Greeting Cards
We have a wide range of Wedding and Anniversary cards varying in style and occasion.
Titles in this section include Engagement, Wedding Day, Your Anniversary, Our Anniversary, Silver, Ruby, Golden, Diamond, Wife, Husband, Mum & Dad, Daughter / Son In-Law Anniversary and Brother / Sister In-Law Anniversary permutations.

View All Wedding & Anni Cards
Special Occasions
Find a variety of titles and designs for popular special occasions ideal for greeting cards.
Find titles relating to important occasions including New Home, Good Luck, Thank You, Get Well, Congratulations, Exam Pass, Driving Test, Retirement, Sorry Your Leaving, New Job and More.

View All Special occasion Cards
New Greeting Cards Buying Service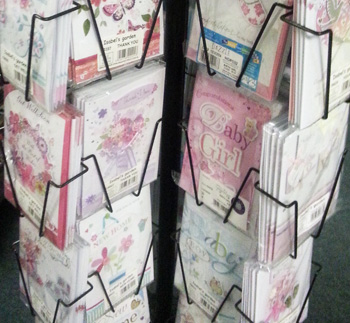 In addition to our comprehensive range of greeting cards we now offer a buying service whereby retailers can make use of our 30 year experience in buying and merchandising greeting card displays.
Getting the right balance of cards, titles and styles is key to maximising the performance from your floor space. We select and deliver rotating stands together with a carefully selected range of greeting greeting cards to make best use of the stand space together with an easy re-ordering solution to keep your stands topped up. For larger areas we can supply floor standing units on the same basis.
As this is a bespoke product, please call us with details of your floor space and requirements for a friendly chat about what we might be able to achieve for you.
Call us on 01603 701225 or
contact us online
for more information.
Our greeting card ranges cover a wide range of everyday greeting card titles ideal for your retail outlet. We supply a variety of businesses including card shops, newsagents, gift shops, florists and many more. We stock titles from well known suppliers such as Simon Elvin, Hambledon, Regent and more.
Our card packs normally come in 6's or 12's cellophane wrapped with pricing guidance on the pack for the RRP. We only stock quality cards. The majority of our range comes in codesize 50, that is the standard card size in the UK. We also supply larger cards in codesize 75 and 90.